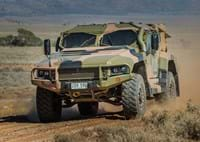 Our wiper system.
The Hawkei's first
line of defence.
---
Why Choose Flexible Drive?
Our values
We stand for three values (availability, great service and being easy to deal with) that sit at the core of our business. They help us evaluate everything we do as a company to achieve the best results for everyone who interacts with us.
We're easy to deal with
We aim to make accessing the right control system or replacement part easy for you. That means different things to different people, but the common elements are usually:
Availability of the products you need
Competitive pricing
Delivery of knowhow and help when and if you need it
As specialists we're committed to delivering our customers with superior results on all measures. But most importantly we are committed to learning about your business, your needs and how we can better serve them. We're on the journey with you and we're committed to getting the result for you.

We're nearby, and so are the parts you need
With a national network of six state offices, outlets in all Australian capitals, and thousands of parts in stock at each location, Flexible Drive has the local support to solve your control systems problems and achieve the outcomes you're looking for.
We deliver and, if we haven't got it we'll get it for you, make it for you, or repair it for you!

We stand by you
We supply to some of Australia's most exacting customers – including the Australian Defence Forces – and some of the world's leading manufacturers. Many say they stand by their products, we stand by our customers and we'll stand by you.
Just give us the opportunity to prove it.