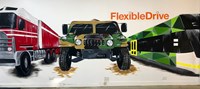 Become a valued part of our team
At Flexible Drive we strive to employ great people who are great at what they do. We are always searching for people with a desire to start their careers and became future leaders in a strong, established and growing company with branches Australia wide. In return, we offer a great work environment and great employment benefits.
If your expertise fits with our vision and values we want to hear from you. Just tell us why, by contacting us at control@flexibledrive.com.au
We will also post live jobs as opportunities become available. An understanding of the automotive aftermarket or a mechanical background would be an advantage. Flexible Drive is an equal opportunity employer.