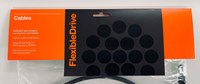 Our History
---
Our foundations were established in 1939, and we have been building on those foundations ever since. Our business began as a manufacturer of replacement speedometer cables and repairing automotive instruments and mechanical cables – for handbrakes, accelerators, brakes, clutches, bonnet and boot releases.
Cables soon became the core of our business, and they continue to be a part of what we do today. In fact, we're Australia's best manufacturer, designer and repairer of cables of all varieties, from tiny medical cables right through to the heaviest cables used in water treatment plants.
Over eight decades our background in cables evolved into a great understanding of control systems, and as the technologies of control have evolved, so has Flexible Drive.
Who we are today

Today the world is a much more demanding place than when we first set up business. Flexible Drive has transitioned to meet these increasingly complex technologies. Mechanical systems led to hydraulics, which in turn led to electronics.
And we now offer our customers advanced 3D printing, also known as additive manufacturing (AM), a process that can produce components direct from 3-dimensional CAD data.
One thing that hasn't changed though.
We are, and remain, a fiercely independent Australian manufacturing and distribution business dedicated to providing the solutions OEMs, Regulated Fleets and Aftermarket Distributors need.
We are committed to supporting progressive thinkers, the people who build great equipment, who maintain it well and those who supply them.
They all need solutions and our focus is on delivering our customers ever better options, great availability, great value and long-term support. That's just who we are.